Battle of Chantilly
The Battle of Chantilly is a Civil War docudrama produced by Bert Morgan. On March 4, 2006 the premiere of the film The Battle of Chantilly (Ox Hill) was shown at the Cinema Arts Theatre in Fairfax, Virginia. It was a sell-out! And I wrote the film score! You can listen to a few excerpts from the soundtrack: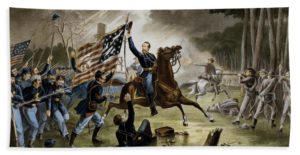 Opening credits and opening scene is a dramatic beginning to this tale of an important battle during the Civil War, which took place in the heart of what is now Fairfax County.
---
Mosby's Combat Operations in Fairfax, Virginia
---
Spies in Crinoline
This film, produced by Bert Morgan, tells the story of a Confederate spy, Antonia Ford during the Civil War. This is a fascinating story detailed in the Encyclopedia Virginia. She lived in Fairfax City in Virginia, which passed between Union and Confederate hands a number of times. Since Ford lived in a nice house, it was often occupied by officers, who often talked freely about their plans. Ford passed on this information to Confederate officers, including John Mosby. The Union accused her of spying and sent her to prison in Washington, DC. One of her captors, Major Joseph Willard, lobbied for her release, and later married her. (This is the Willard who established the Willard Hotel in Washington DC.) So, this is not only a story about the Civil War, but also a romance between two enemies.

Notice how the main musical theme, introduced in the first "Opening Credits" excerpt, is repeated several times throughout the film. But, each time it repeats it is cast in a new light, sometimes distorted, sometimes played in a different style. I believe that this repetition helps to give an overall impression of unity in the film's score.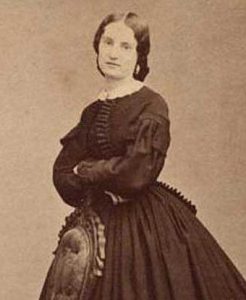 ---
Canyons and Casinos
This is the first travelogue film I co-produced with Paul Silverman. The soundtrack begins with a majestic orchestral theme while viewing scenes of the Grand Canyon. In the following section, scenes of Las Vegas are accompanied by the very same melody in several jazz styles, including big-band and small ensembles. Toward the end, the scene returns to a desert memorial with orchestral accompaniment. Some very clever and subtle things going on with the music. Check it out!
Southwest Splendor
Southwest Splendor from Paul Silverman on Vimeo.
Splendrous scenes from the American Southwest are accompanied by my original sound track with western-style themes played by a large orchestra. Paul Silverman filmed the video, and David Rubenstein composed the music.
September in High Country
This is my second travelogue co-produced with Paul Silverman. A beautiful and uplifting sound track accompanies scenes from the magnificent west.