Lost in Wonder
I finished a first draft of a score for a documentary film "Listen to Britain", in collaboration with Stephen Noorshargh of G22 Studios. This will be a feature-length film about the experiences of immigrants to Great Britain. I just now finished the very last cue in the film; it is rather long, coming in at almost 5 minutes in duration. The first part of the cue underlies dialog, so it cannot be too loud. Then the dialog ends, followed by a video of the British seashore, followed by film credits. Keep in mind that this is not a stand-alone musical composition. It is intended to fit the images on the screen, as well as the spoken words.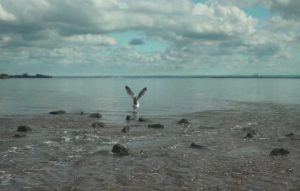 This cue repeats some of the themes that were introduced earlier in the film. My favorite parts are the vocals; Here I have introduced a duet between the male and female singers. The vocals come from the Ethera Gold 2.5 and the Ethera Gold Atlantis sample libraries. These are phenomenal libraries feature huge collections of vocal phrases, as well as beautifully-sampled true legato notes. These libraries have quickly become among my favorites. In addition, the Oud samples are from the "Discovery Series: Middle East", while the Kora and Duduk are from the East-West "Ra" sample library.
This cue was a lot of fun to compose and produce. Composing beautiful melodies, underlying a wonderful film–it's a great experience!
Lost in Wonder